What Is The Best Bedding For Chickens?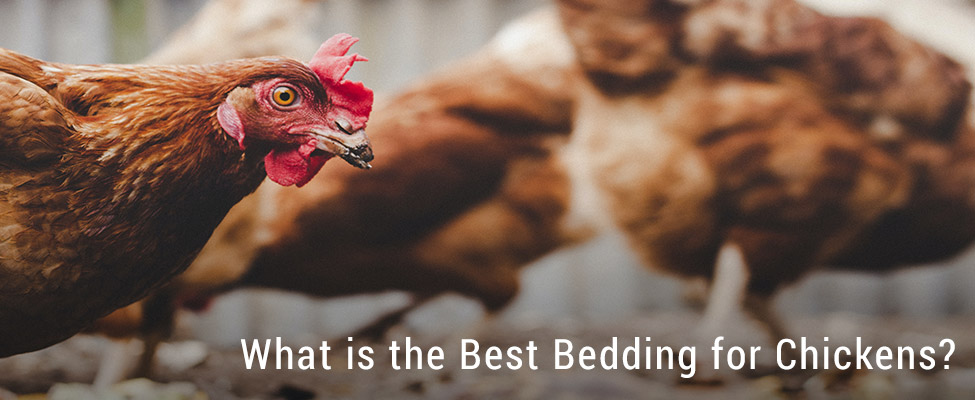 Choosing the correct bedding is vital to secure the health of your chickens. Good bedding will keep the coop free of harmful bacteria, odour, mold, pathogens, and flies. Don't worry, new chicken parents, we have collected all the information you need to help you choose the best bedding option for you and your hens.
Best Bedding for Chickens
There are many things to consider when we talk about chicken bedding. Cost is a factor, but we also want to keep our hens warm, dry and comfortable and keep the odour surrounding the coop to a minimum. Bedding that will absorb the chicken's waste also allows for a longer time between cleanings.
With so many factors to consider, it is difficult to name one bedding as the best. Instead, each bedding comes with advantages and disadvantages depending on your situation. Let's quickly run through some of the most common bedding types: hemp, wood shavings and pine shavings.
Hemp Bedding
Hemp bedding is made from the stalk of the cannabis plant. The stalk is mulched to form a bedding that is straw-like in texture, but is also very absorbent. Hemp bedding is becoming a popular alternative choice for backyard chicken owners.
Pros:
Very absorbent
Great odor control, reduces ammonia smell
Easily composts for deep bedding coops
Cons:
Cost, on the higher end
Availability, many farm stores do not keep this in stock, although it is gaining popularity.
Wood Shavings
For any type of wood shavings you need to go for a more coarse shaving, over fine shavings. Fine shavings and sawdust both produce too much dust, which is not good for your chicken's lungs and leads to respiratory problems.
There are many types of wood shavings and you may even be able to make your own with a wood chipper and yard waste. Just remember to be careful with the woods you use and keep cedar out of the mix.
Pros:
Low Cost – Widely available in stores or even make your own
Lightweight, making it easy to change
Dust free
Cons:
Toxins, make sure bags are clearly labeled so you don't accidentally use cedar shavings.
Wood shavings are not very absorbent.
Smell, because they are not absorbent there will be moisture and therefore ammonia producing bacteria in the bedding which will attract flies.
Pine Shavings
Pine shavings are a very common choice for coop bedding. They are easy to find and inexpensive.
Pros:
Low cost
Widely Available
Pleasant pine scent
Composts nicely
Cons:
Pine Pellets
Pine pellets are inexpensive and can be found in the horse section of your local farm store. They are extremely absorbent. You can even sprinkle them with some water to force them to break apart, creating a fluffy bedding for your chickens. Once they have broken apart, you can easily clean the poop out of the coop to keep the bedding clean and smelling like fresh pine.
You can also add some pine pellets to the pine shavings to increase the absorbency of your bedding.
Best Winter Bedding for Chickens
Now, let's talk about what bedding will help keep your chickens warm in the long winter months. While you might assume straw is an excellent choice, and may come across advice suggesting its use, there are good reasons to avoid it.
Chickens need litter on the floor, not bedding. Because chickens do not lay on the floor, they don't need the floor to be particularly soft. Instead, bedding should be able to absorb their droppings so that the coop does not become wet. Although straw is soft, it is not very absorbent, quickly becoming wet from the chicken's waste. A wet bedding is hazardous to chickens because it harbors mold which can make the hens sick.
A better chicken coop bedding for the winter months is an absorbent bedding such as pine pellets or hemp.
Deep Litter Method
You can use the deep litter method in the winter to bring some additional warmth and insulation to your coop. This method gets your coop bedding composting which releases heat. The chicken's natural drive to scratch and turn the ground gets the process started. You will want to add fresh bedding if the bedding starts to appear damp or gets smelly. You should also help the hens in their mission to turn the bedding by occasionally stirring the bedding with a light raking. You can use this method with any bedding that is absorbent and compostable.
Important note: Do not use cedar shavings for coop bedding. Cedar gives off fumes which are toxic to chickens.
Best Bedding for Chicks
For little chicks you won't need a large amount of bedding. An excellent alternative is shredded paper. If you have a paper shredder at home, you can supply the bedding for your chicks at no additional cost. Shredded paper is soft, absorbent, and fluffy, all the things your little chicks need.
Note: Newspaper is not the best paper to shred for bedding because it gets slippery. The best paper bedding is simple, plain white paper. You can use scrap mail, but make sure you avoid getting any plastics mixed in (such as the pocket on envelopes) or anything with strong inks. Also avoid using glossy magazines which can create a bedding that is too slippery and not very absorbent.
A popular favorite for chick bedding is the soft aspen shavings that are sold in the hamster section of pet stores. Make sure you don't pick out a bedding that is dusty. Sawdust can cause respiratory problems and should be avoided.
How often should I change chicken bedding?
The frequency for changing your chicken coop bedding varies for the following reasons.
Bedding that is more absorbent will not need changed as frequently.
Some chicken owners clean up surface droppings in the coop daily, which extends the time between bedding changes.
If you are using the deep bedding and composting method, then you will only change your bedding out every 3-6 months.
With wood shavings it is likely that you will need to change the bedding weekly, although this also depends on how many chickens you have and the size of your coop.
So with all these factors to keep in mind, how do chicken owners know when to change their bedding? There are a few easy signs that will tell you when it is time for a change.
Is there an unpleasant smell?
Are there a lot of flies?
Is the bedding moist?
Can you use hay for chicken bedding?
Hay and straw are not good choices for chicken bedding because they are both great at growing mold. Although hay has become popular because it is absorbent and cheap, it is not the cleanest environment for your chicken coop.On a microscopic level, it harbors strains of bacteria that can make your chickens sick. Straw is also a great breeding ground for mites, which will then infect your hens.
Can you use sand for chicken bedding?
Another option for your chicken coop bedding is sand, however it is important that you use the right type. Play and beach sands can cause health problems for your chickens. Instead, the correct type is a medium to coarse grain sand which looks more like teeny tiny gravel in your hand than a smooth beach. Some stores call this mortar sand, concrete sand, or riverbank sand.
Using sand has a few benefits over alternative beddings:
It does not harbor bacteria and pathogens like organic matter does and will not rot.
It is easy to remove chicken poop, making it easy to keep the coop clean without replacing all the bedding.
Reduces the number of flies attracted to the coop area.
The bacteria that create the ammonia smell cannot survive in sand, meaning no unpleasant ammonia smell in your coop.
To use sand you need to make sure that there are no leaks and your coop will never be in standing water as this will create a muddy mess for your chickens.
In the winter if the sand is directly on the ground it can freeze. Equally in the summer, it can also get too hot in the direct sun. Sand is best used for coops that have a solid roof and four walls to keep the weather out.
Sand is also heavier than shavings or paper, so carrying in the number of bags needed and getting it spread around may be a lot more work than tossing in something fluffy and light. You will also need to have a sturdy coop floor to hold up the weight.
It's also important that you clean the bedding daily and remove any droppings or dirt. You will need to scoop the poop out of the sand daily.
While it is more expensive to get started, it can be cheaper in the long run because you won't need to replace it as regularly as softer bedding.
For details about using sand in your coop, check out this excellent article.
Mixing and Matching Chicken Coop Bedding
You must have noticed by now that there is no one best chicken coop bedding. If you are feeling confused and discouraged about your chicken bedding choice, consider combining some different beddings together.
For example, you can combine pine shavings and hemp together. The pine will bring a pleasant smell to the coop and keep the cost of bedding down, while the hemp absorbs moisture and neutralizes the production of ammonia.
You can put pine pellets down for a bottom layer of bedding, as they are absorbent and inexpensive, and then cover them with hemp, pine shavings, or wood chips.
Whatever you settle on for your chicken coop bedding, keep it clean and you will have happy, healthy chickens living in a cozy, fresh smelling, fly-free coop.